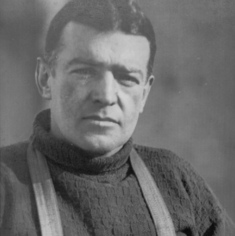 Domani, 6 dicembre, nella Sala degli Stemmi del Museo della Montagna di Torino, appuntamento con  la rassegna "Leggere le montagne", a cura della Biblioteca Nazionale del CAI che, propone,  alle ore 18,00 "Aurora Australis" di Ernest Henry Shackleton (Leading edizioni, 2011).
Interviene l'editore Ada Grilli, giornalista e fotografa specializzata nei paesi artici.
Nel corso dell'incontro, proiezione di spezzoni di South. Ernest Shackleton's Glorious Epic of the Antartic di Frank Hurley, 1919 e di Encounters at the End of the World di Werner Herzog, 2007.
Nel centenario del raggiungimento del Polo Sud, la raccolta di testi dei protagonisti, scienziati ed esploratori, è una testimonianza del periodo eroico delle spedizioni polari. La prima traduzione italiana dell'opera scritta, stampata e rilegata nei quartieri invernali della spedizione britannica Nimrod a Capo Royds (1908-1909) è proposta insieme alla ristampa anastatica dell'edizione originale.
"Aurora Australis" di Ernest Henry Shackleton
Editore: Leading, – 2011
Collana: Il genio vagante
Pagg.: 440
Due volumi in cofanetto; tiratura limitata di 550 copie numerate
Prezzo di copertina: 131,00 €
Info: Biblioteca Nazionale della Montagna tel. 011 6603849
Museo Nazionale della Montagna, Piazzale dei Cappuccini, 7 – Torino, martedì 6 dicembre – ore 18
Tags: Ada Grilli, Aurora Australis, Avventura, Cult, Encounters at the End of the World, Ernest Henry Shackleton, esplorazioni, experience, Frank Hurley, Leading Edizioni, Leggere le Montagne, Mountain Book, Polo Sud, presentazioni libri, South.Ernest Shackleton's Glorious Epic of the Antartic, Spedizioni, spedizioni antartiche, Werner Herzog