GABRIELE MORONI RIPETE "THE STORY OF TWO WORLDS"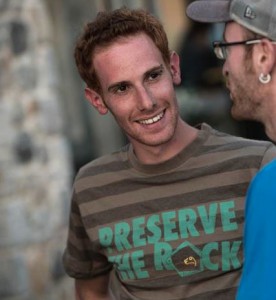 Gabriele Moroni ha ripetuto "The Story of two worlds" (8C) di Dave Graham, a Cresciano, in Svizzera.
Dave ha fatto la prima salita nel gennaio 2005 e questa è la sesta ripetizione dopo Dai Koyamada, Paul Robinson, Jernej Kruder, Carlo Traversi, Giuliano Cameroni.
Ci sono voluti più di cinque anni per ripetere il problema, ma da allora le repliche sono state sei in quattro anni.
Questo è il secondo 8C della stagione per Gabriele Moroni, dopo "Insanity of Grandeur" a Chironico, che ha scalato nel mese di dicembre (fonte: www.ukclimbing.com)
GABRIELE MORONI SALE "I PORTICI" A OSOGNA

Gabriele Moroni, I Portici from rivoli on Vimeo.
Fonte: www.ukclimbing.com
Tags: 8c, action, arrampicata, Boulder, Climbing, Cresciano, Gabriele Moroni, Svizzera, The Story of two worlds