ANGELIKA RAINER CHIUDE "CLASH OF THE TITANS". E' LA PRIMA VOLTA CHE UNA DONNA SCALA UNA VIA DI QUESTA CAVA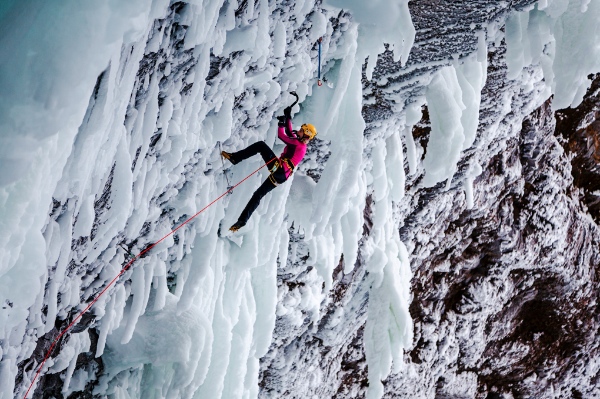 La via "Clash of the Titans" è stata aperta e liberata ad inizio settimana da Tim Emmett e Klemen Premrl, due assi di questo sport che insieme a Will Gadd hanno scoperto le Helmcken Falls e scalato le prime vie, e che hanno suggerito ad Angelika Rainer, nostra "Action Blogger" di provare questa nuova via.
Angelika è riuscita a "chiudere" la via, gradata WI10+, dopo due giorni; qui le sue prime impressioni:
"Il nostro "climbing trip" in Canada, ci ha portati ad Helmcken Falls, una incredibile grotta alta più di 150mt con una cascata di grossa portata che spruzza acqua lungo tutta la parete strapiombante, formando meravigliose figure di ghiaccio, che stimolano la fantasia di ogni iceclimber.
La via che ho chiuso si chiama "Clash of the titans"; è una via bellissima, è la prima volta che scalavo una via di ghiaccio così difficile….
VAI AL BLOG DI ANGELIKA RAINER PER L'APPROFONDIMENTO
Tags: action, Angelika Rainer, arrampicata su ghiaccio, Canada, Clash of the titans, grotte, Helmcken Falls, Ice climbing, Klemen Premrl, Tim Emmett, Will Gadd