Più di 80 anni fa, in un piccolo paese ai piedi delle Dolomiti, nasceva La Sportiva, laboratorio artigiano per la riparazione di vecchi scarponi in cuoio, in cui il fondatore Narciso Delladio operava in qualità di calzolaio, antico mestiere parte della cultura artigiana della Valle di Fiemme.
Quale migliore spunto quindi, se non i vecchi lavori praticati anticamente in Valle, per coinvolgere attivamente gli atleti "ambassadors" del marchio La Sportiva e realizzare così il calendario atleti 2012?
Atleti del calibro di Adam Ondra, Nalle Hukkataival, Lucas Preti, Pietro Dal Pra, Luca Zardini, Cody Roth, Michele Caminati, Dodo Kopold, Patxi Usobiaga, Katharina Saurwein, Hansjörg Auer, Gerhard Horager si sono così ritrovati agghindati chi da malgaro, chi da rastrellatore, chi da pastore, chi ancora da boscaiolo, nella stupenda cornice paesaggistica di Sadole, località montana facente parte del comune di Ziano di Fiemme e situata a pochi kilometri dalla sede de La Sportiva.
2 giorni di sole tra prati e pascoli in fiore, in compagnia di mucche, capre e sostanziosi piatti di polenta. Alla fine ne sono usciti 12 intensi scatti in cui ogni atleta si è immedesimato al massimo nella propria parte, smettendo per un po' i panni del campione per vestire quelli "old school" forniti dal museo di Nonno Gustavo di Bellamonte (Predazzo), prezioso contenitore di memorie valligiane.
Il calendario atleti La Sportiva 2012 sarà disponibile a partire da dicembre 2011, on-line o agli eventi ufficiali La Sportiva nel corso dell'anno. Se volete scoprire se Nalle Hukkataival è davvero riuscito a mungere una mucca, se Dodo Kopold ce l'ha fatta a tagliare la legna per l'inverno e se Pietro Dal Pra è riuscito a recuperare da un boulder la capra che vi era salita, non vi rimane che rimanere sintonizzati e richiederci la vostra copia tramite la nostra pagina facebook.
Info: www.lasportiva.com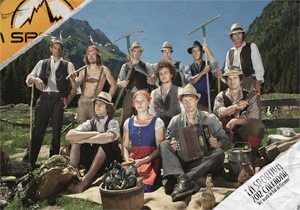 La Sportiva Calendar 2012: we work in Val di Fiemme
La Sportiva was established over 80 years ago in a small town at the foothills of the Dolomites, by a skilled cobbler Narciso Delladio. At the time, he worked in what was then a small artisan workshop repairing old leather boots, one of the valley's oldest trades.
So, what better inspiration could there be to get La Sportiva's "ambassadors" actively involved in the new edition of La Sportiva ambassadors calendar for 2012?
So well-known names (such as Adam Ondra, Nalle Hukkataival, Lucas Preti, Pietro Dal Pra, Luca Zardini, Cody Roth, Michele Caminati, Dodo Kopold, Patxi Usobiaga, Katharina Saurwein, Hansjörg Auer, Gerhard Horager) traded places for the day with cow hands, field workers, shepherds and wood cutters, in the beautiful setting of Sadole, a small mountain hamlet in Ziano di Fiemme just a few kilometres from La Sportiva.
Two sun-soaked days spent in Sadole's flowery fields and grazing grounds in the company of cows, goats and plenty of polenta, resulted in 12 "inspirational" shots of the athletes experiencing hands-on some of the valley's most ancient trades. They were all clad in "old school" styles, courtesy of the museum of Nonno Gustavo di Bellamonte (Predazzo) which is home to a precious collection of artifacts from the valley.
The 2012 edition of La Sportiva athlete's calendar will be available from December 2011, either online or at official La Sportiva events throughout the year. If you would like to find out whether Nalle Hukkataival really did succeed to a milk a cow, or if Dodo Kopold chopped enough wood for the winter and if Pietro Dal Pra managed to rescue a goat stranded on a boulder, then stay tuned and request your copy of the calendar through our facebook page!
Info: www.lasportiva.com
Tags: Adam Ondra, Ambiente, Ambiente e Territorio, anniversari, calendari, calendario La Sportiva 2012, Cody Roth, cultura artigiana, Dodo Kopold, experience, Gerhard Horager, Hansjoerg Auer, Katharina Saurwein, La Sportiva, Luca Zardini, Lucas Preti, Michele Caminati, Nalle Hukkataival, Patxi Usobiaga, Pietro Dal Pra, tradizioni montane, trailer, Val di Fiemme, Video