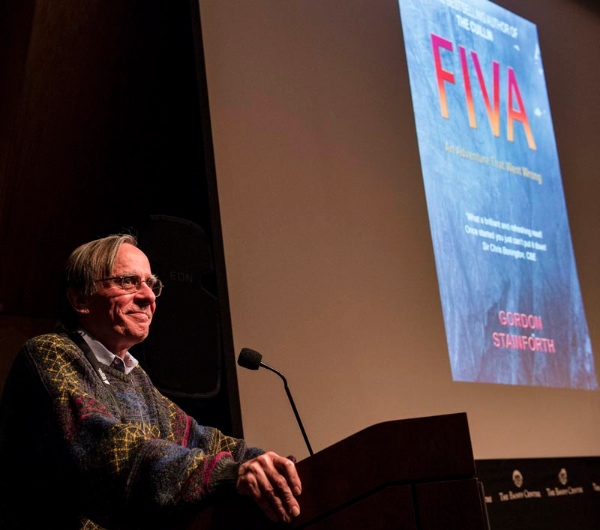 Gordon Stainforth, scrittore e fotografo, è stato premiato al Banff Mountain Film and Book Festival in Canada, per il suo ultimo libro "Fiva. An Adventure that Went Wrong", che ha vinto come miglior opera  nella categoria Letteratura di Montagna e Wilderness.
Questa la rosa dei finalisti:
Here, There and Everywhere, by Jim Curran
Into the Silence, by Wade Davis
Cold Wars, by Andy Kirkpatrick
'The Challenge of K2, by Richard Sale
FIVA – An Adventure that Went Wrong, by Gordon Stainforth
The Wild Within, by Simon Yates
I giudici – Bruce Kirkby (Can), Barbara Brownell (USA) e Jim Perrin (UK) – hanno dichiarato che il 2012 è stato un anno eccezionale, per qualità delle opere e hanno definito Fiva come  "una forza implacabile.. Un libro suggestivo, umano, innocente e credibile. Questo piccolo libro senza pretese è tra le storie classiche di arrampicata".
Gordon ha commentato: "Questa è davvero la cosa migliore che mi sia capitata professionalmente parlando negli ultimi 18 anni, da quando ho vinto il premio per il miglior libro di immagini di montagna a Banff nel 1994 [per The Cuillin]"
"Questo riconoscimento significa molto per me, perché considero la scrittura come la forma d'arte più grande dopo la fotografia. Quello che è veramente emozionante è il plauso universale che FIVA ha ricevuto, da vecchi e giovani, scalatori e non. E 'sicuramente la cosa più soddisfacente che io ho abbia fatto da quando ho lasciato la cinematografia, quasi tre decenni fa".
Fiva è stato anche selezionato per il Premio Boardman Tasker, il cui esito sarà annunciato al prossimo Festival della Montagna di Kendal, venerdì 16 Novembre
Gordon è noto per i suoi premiati libri fotografici sulle montagne inglesi: Eyes to the Hills, Lakeland: Landscape of Imagination, The Cuillin and The Peak: Past & Present.
Fonte: www.ukclimbing.com
Tags: Banff Mountain Film and Book Festival, Cult, experience, Fiva, Fiva. An Adventure that Went Wrong, Gordon Stainforth, letteratura di montagna, Mountain Book, premi, wilderness