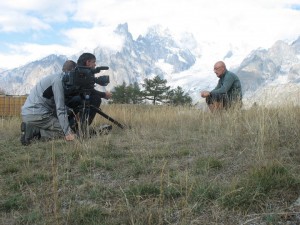 A dicembre, presso il Cinema Nuovo Eden di Brescia, si svolgerà la seconda edizione della Rassegna "BRESCIA WINTER MEETING MOUNTAIN FILM – DAVANTI ALL'ACQUA SULLA CIMA DEL MONTE", dedicata a film e documentari che raccontano di montagne, acqua e montagnard.
Organizzata dall'Associazione Gente di Montagna,  il Brescia Winter Mountain 2011 vedrà ospiti e video di grande qualità con alcune anteprime speciali. Tra queste, uno spettacolare racconto di Backcountry Skiing, Snowboarding e Telemark sulle montagne del Sud America "SOLITAIRE", anteprima europea.
Confermata la presenza di Emilio Previtali e il suo gruppo di StoryTeller che mostreranno agli spettatori del Festival  il dietro-le-quinte delle loro produzioni più avventurose.
Tra i film ospiti: COLD di A. Fogel, SEASON di S. Amstrong, AQUADETTES di Z. Canepari, ASCENDING THE GIANT di J. Waller, THE LONGEST WAY di C.Rehage e DREAM RESULT di R. Sturges…
Date e programma in via di definizione.
Info: www.gentedimontagna.it – info@gentedimontagna.it
vimeo.com/gentedimontagna/videos – www.facebook.com/gentedimontagna
cell. +393200311311 – home +39035246207
Tags: acqua, Acquadettes, Ascending the Giant, Brescia Winter Meeting Mountain Film, Brescia Winter Mountain, Cold, documentari, Dream Result, Emilio Previtali, Eventi, experience, Festival, film, filmfestival, freeski, Gente di Montagna, montagne, Season, Skiing, snowboarding, Sud America, telemark, The Longest Way