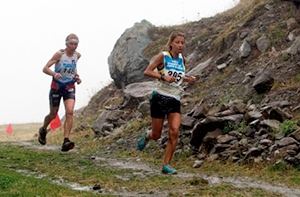 Domenica 2 settembre alle ore 9 partirà l'undicesima edizione della Becca di Nona Skyrace, la gara valdostana partirà dal cuore di Aosta e precisamente della piazza Chanoux per dirigersi verso la vetta della Becca di Nona.
La competizione sarà valida come nona prova del Valetudo Mountain Running International CUP Grand Prix of the Nations 2012.
Come vuole la tradizione saranno due le competizioni inserite del programma agonistico, la gara di salita e discesa per uno sviluppo totale di trenta chilometri e con 2562 metri di dislivello, e la gara di sola salita che prevede l'arrivo in vetta alla Becca di Nona. Inoltre tutti gli appassionati si potranno divertire partecipando alla camminata non competitiva.
Per quanto riguarda la gara di salita e discesa il traguardo sarà allestito al centro sportivo di Pian Felinaz a Charvensod.
Dopo le prime otto prove del circuito Valetudo Mountain Running nelle prime tre posizioni della categoria femminile troviamo Cecilia Mora in vetta con 480 punti, mentre Emanuela Brizio (225 punti) e Ogawa Hiroko (204) si contendono le due posizioni di rincalzo.
Nella competizione maschile domina la classifica un altro atleta del Team Valetudo, Ionut Zinca con 460 punti totali mentre Vlad Florin-Danut e Galiteanu Ionut Dan sono rispettivamente secondo e terzo con 342 e 318 punti.
Per maggiori informazioni e  iscrizioni: www.beccadinonaskyrace.com
Calendario Mountain Running International Cup
COLEDADE HORSEHOE (England)
14th April
http://www.fellrunner.org.uk/races.php?id=1890
ALOÑAKO IGOERA (Euskadi)
22th April
http://www.aloina.net/Aloinako_Igoera/indexE.html
ECOMARATON (Romania)
05th May
http://www.ecomarathon.ro/
HERCULES MARATHON (Romania)
26th May
http://www.alternativetm.ro/en/herculesmaraton
11.GM40 (Slovenia)
16th June
http://www.gm4o.si/index.php?lang=en
OLYMPUS (Grecia)
24th June
http://www.olympus-marathon.com/
OLLA DE NÚRIA (Catalonia)
15th July
http://www.olladenuria.cat
COURSE DES PERICS (France)
19th August
http://club.quomodo.com/coursedesperics/francais/bienvenue
BECCA DI NONA SKYRACE (Italy)
02nd September
http://www.beccadinonaskyrace.com/
ETNA VALETUDO SKYRACE (Italy)
30th September
http://www.etnaskyrace.it/
Tags: action, Becca di Nona Skyrace, corsa in montagna, gare, skyrunning, sport, Valetudo Mountain Running International CUP Grand Prix of the Nations